Welcome to my home on the web!
Ko Miss Draper tōku ingoa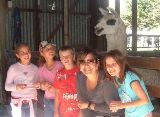 Ko waimakariri te awa
Ko ngati awa te iwi
Nō Ōtautahi ahau
He akonga ahau, i Te Whare Whai Mātauraka ki Ōtautahi
Kei te ako tonu ahau, i Te Reo Māori
Ka nui te mihi ki a koutou katoa
Nō reira, tēnā koutou, tēnā koutou, tēnā koutou katoa
Welcome to MissDraper.com. This website offers you a look at some of the work I have done over the past 3 years while I was studying to become a teacher. Feel free to browse around and if you like what you see, why not send me an email! (I love getting emails!)
I will be adding more of my recent work soon and will also share my thoughts and ideas that I have about teaching children.
News for Today
I'm starting to write more regularly on my blog now so have a peep every now and then!
I've just added some literacy games. If you have any great unit/lesson ideas or fun activities I would love to hear them!! If I think the would would benefit from them I might even publish it on my site and give you credit for it!
Hope you enjoy!
Gieve Draper xoxox